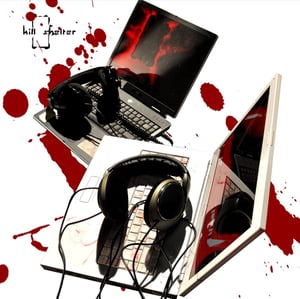 £

2.99
The debut CD from uncompromising UK dub duo, Kill Shelter.
Kill Shelter is the coming together of Punchblade, strong dance, acid & house music back ground, and Matt Deimos, from metal, garage and drum and bass, to make new, live and aggressive dub step. Their work is almost completely written in live dub jams and their live sets are the pinnacle of this expressive way to produce dance music.
Associated DJs and producers are: Matt Deimos, Bonobi, Dogs of War, Jason G, Jimmy Lasers, and The Kit bomber. Their work is also linked with Dogs of War and I.D.
Kill Shelter take their lead from the pages of Scorn, The Bug, Distance, and other leading Dubstep lights, but their sounds have a unique and aggressive edge that owes as much to the The Dust Brothers and Aphex Twin, via the stark production of early Kraftwerk, as it does to the current crop of dubstep. You heard them here first!
Visit http://www.myspace.com/killshelterdub for a preview of some of the unmastered tracks.
This is the first non-Zero Cipher release for Null/Void - it is sounding killer and we are delighted to announce the digital release date: 13th December 2010 - it's out now!! - we will keep you posted of accompanying press and live dates here.
1. Fatal Kick (PUNCHBLADE)
2. Off the Saucer (PUNCHBLADE)
3. A is for Anxiety (A IS FOR ASMODEAS)
4. A is for Atomizer (A IS FOR ASMODEAS)

Available NOW from CD Baby
If you are an iTunes user, it is available via http://itunes.apple.com/gb/artist/kill-shelter/id408467771